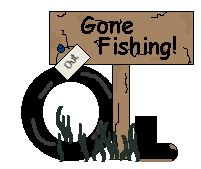 This was our last day of excitement! We decided to head to the Lake and just relax for a while especially after all the excitement throughout the week! Let me just say it was a great way to end the week! We went to a lake called Center Hill about an hours drive from our home! Our Crew included Me and my hubby and the 2 kiddos and my Mom, my neice Chi and My In-Laws! We took out on the Pontoon Boat and brought the Jet Ski along so the kids could have some fun too, that would incluse the adults too ;)
Well when we first got there we decided to cruise by Alan Jacksons(country singer) home. Well much to our surprise there he sat with some family on the back of his house boat! It really made our day! Here is the pics!
His 3 boats. The brown wood one is called the Hoochie Coochie, its the one they used in his video Chattahoochie! Not sure about the one next to it but the big one is called Lucille.
And here is Alan Jackson, he is in the Orange Shirt(click on the picture to get a better view) and of course his body guard standing up close to him watching everyone that went by! When we drove by, Alan waved at us and my Neice about passed out! She smiled and giglged the rest of the day!
The view of his house and his house boat!


We really picked a good spot we where catching these fish left and right! The guys barely had enough time to bait our hooks before someone had caught a fish and needed it removed!
1st fish of the Day caught by Chi
2nd Fish caught by my Lil Man Way to go Caleb!
Go Chi, she caught another one the 3rd fish of the day, then on the other side of the boat Nannie caught one!
Mawmaw and Cami caught their 1st fish!
The prettiest fish of the day caught by Mawmaw
Time to cool off!

More Fishing
The BIGGEST fish of the day Award goes to our Daddy!
All in all I think we caught about 25 fish! Now thats a great fishing Day!
Cruising the Lake