Happy Anniversary Mommy and Daddy!
Goodness hard to believe it has been 9 years since we have been married. Even harder to think that we have been together for 12 years. I was 15 years old when I met Jason and he was 16. Just little pups him and I, We married on June 13, 1998 at the young ages of 18 and 19. Then 2 years later came along Caleb and 2.5 years after that Cami! We are truly blessed with a wonderful family!
Our Wedding photo. I was taking a picture of it and when I uploaded it I noticed the kids picture in the background of it! It was reflecting from the opposite wall. How awesome is that!
Fall of 2000
For our Anniversary we decided to take the family to Chattanooga or "ShaaaGanooooga" as Caleb calls it. We took up the Aquarium and the Tennessee Valley train ride. What an exciting day we had planned! I'm posting our vacation backwards here sorry if its confusing anyone!
Wednesdat morning we got up and headed out at 6am for the 2 hour drive to Chattanooga. I thought the kids would be pooped out from all the excitment from the previous day but that wasnt the case. They really took in all the sights and couldnt wait to start our daily activites!
Chattanooga Aquarium
1st stop of the day the Aquarium!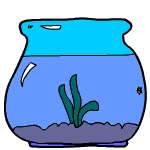 Chi petting the sharks!
This was the neatest thing. You walk in with all these butterflys flying around you. You could let them land on you but you couldnt touch them, specially their wings because it would kill them. They were all just gorgeous, and you should have seen my baby girl she was being very observant watching them fly around her. This turned out to be a good motor class for her!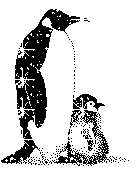 My Favorites of the day where absolutely hands down the PENGUINS! They where adorable! Make sure you click on these photos to enlarge on how sweet they where. They would come right up to the glass and look right at you! It melted my heart!
Penguin Love, Hugs & Kisses!
Well there is my FAVORITE pics of the Aquarium! I took about 200 pics but I'm sure you have all seen fish and sharks. I just wanted to share my sweetest pics. This only covers half our day I will try to post some of the Train pics tomorrow. Blogger is moving way slow tonight and it is past midnight already!
My baby girl has been acting strange the past few days of not wanting to eat or drink she is only taking in about 4 ounces of fluid a day for about 4 days now but ever since she had that virus she has NOT been drinking more than 10 ounces a day! Food is a struggle she spits it all out! I'll be calling into the Peds office tomorrow~! Still Seizure Free!