Valentines Day!
Sorry I forgot to put that up yesterday! Hope everyone had a wonerful Love day! The kids got lots of valentines from school. And Caleb is wearing out the Alvin and the Chipmunks cd we got him, he insisted on listening to it while he went to sleep last night. He loved that movie it was the cutest! At his school they gave out their cards and candys and they also had a party. I have got the cutest picture of Caleb with his new girlfriend Madison, he bought her a pink dog that said Be mine on it. She was so excited she started skipping around the room. Puppy love its the sweetest!
Camis teacher called me yesterday and invited me over for a class party. I walked in and Cami was sitting in her booster seat eating her lunch like a big girl! Got to meet the other moms and their sweet little boys. It was great!
Some new things:
She likes to feed YOU! SO she kept feeding me her goldfish at her party, she thought it was hilarious, such a sweet baby girl. But if you dont eat what she is putting in your mouth she throws a fit so better keep your belly some what empty......LOL! Whatever makes her happy! Her teachers just adore her and are so excited to have a girl in their class. Mr. J got caught off guard today when she started rubbing his ear. We dont know why she does this but its only with males!!!!! And thats with any male she will go up to a complete stranger and rub on his ear......She has done this in the waiting room....Talk about embarrasing! But she will get right up to your ear and rub it and suck her thumb, its hilarious. SO watch out boys!!!
Cameran has also started spitting not sure if its just new to her or if she saw someone doing it but its a cross between raspberries and a spit but she does it to everything, on our dog, us, Caleb, an offer of food, on her food on the tables...Gross baby girl! Also a newbie is rubbing her hands together she likes to wash her hands and loves to put on lotion, she does a good job rubbing it in. And lastly is brushing her teeth, I always brush them for her and then give her back up toothbrush of hers that she loves to chew on. But yesterday she was moving it side to side brushing her own teeth....Way to go Cami!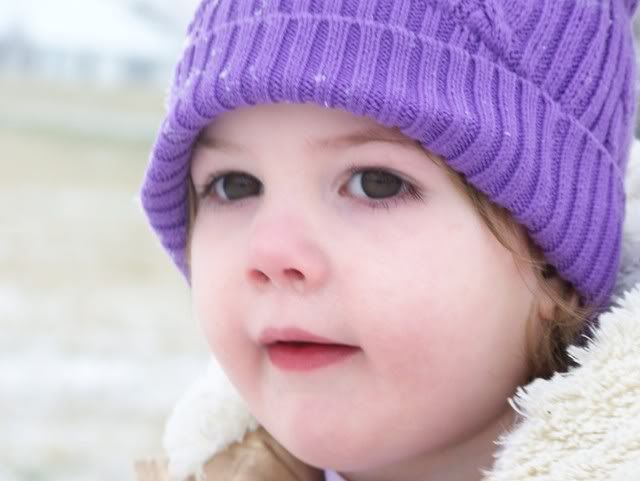 Oh and one more thing her babbling is getting better lots of new sounds coming in. And she loves to say Mama......Thats my girl!
Heres a pic of Caleb out in our snow the other day. The kids had their first snow day of the year. Ok well it wasnt really anything but it did snow all day long and it was a beautiful sight. We got maybe less than an inch. But the roads where icy and so was our back steps I about lost my tailbone! But I took the kids our for about 10 minutes thats all we could handle it was 22 degrees....Brrrr! Cami just ran her little legs off completely oblivious to the fact of how cold it was or that it was snowing. Caleb on the other hand was thrilled but sad that there wasnt enough to make a BIG snowman. So really all I got was some cute pics so here you go! I love these pictures.