Of Camping in Gatlinburg, Tn!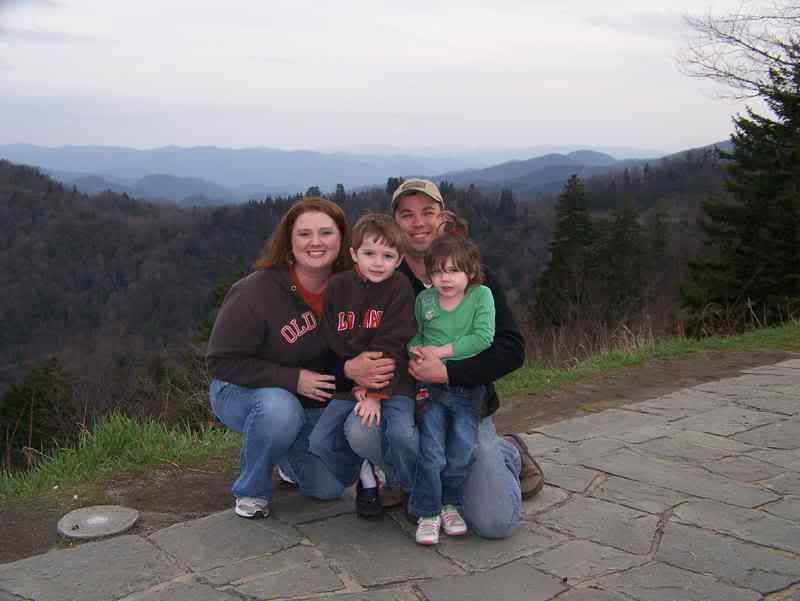 The temperature for this trip couldn't have been more perfect for our first long travel with the camper. The kids had a great time and man did we have the best spot on the campground. Set right on the edge of the creek, it was beautiful! We got to stay for 5 days at Jellystone Park which was very kid orientated it was perfect. They had their very own movie theater that played movies every night, putt-putt course 9 holes you couldnt ask for it to be any better, on 18 holes I think they start to lose interest. They had their very own game room which we tried out quite often. Me and Jason ended up playing quite a bit of rounds of pool and we even attempted the dancing machine....don't know how the kids do it, but it was funny to try it out. It was real quite around the campground we stayed in the days it rained when everyone else took the opportunity to sight see the shops and such. So we had the place pretty much to ourselves which was wonderful! The days it didn't rain we took hikes around our camping site, then took a drive up in the mountains too see all Gods great beauty! On the way up the Mountain Cameran kept saying Up Up Up it was the cutest. When we got back to the camp she came up to me saying Up up up holding her arms up at me wanting me to hold her brought tears to my eyes, her 1st real request. She did really great while we where there we thought it was going to be a constant battle chasing her but instead she surprised us and stayed right around our camper site. She played ball and if it bounced off she would only go as far as our car then wait for us to get it for her. She loved the creek also but would only go down the rocks when we took her down and she loved putting her feet in the water. The only problem we really had out of her was the fire she kept showing lots of interest in it which scared us to death.
We did get a visit from Yogi bear himself and Caleb was thrilled. He came to our site and at the time Cami didn't see him and we got a few pics with him and the kids. He came back around for a 2nd time and we couldn't get her near him she was backing up fussing. SO woo hoo for her 1st fuss at a stranger...bear that is....LOL!
Of course we took out a day of fun and headed to Pigeon Forge where its nothing but games galore! You have tons of putt-putt courses, go carts galore, laser tag, bungee and lifts for the more adventurous and shopping! Lots and lots to do, we tried out the Dinosaur boat ride which was interesting very loud and smokey but it was a neat experience but not worth the money for a 10 minute ride.
Gatlinburg is such a great spot for family time and this was our first time camping there which was so much fun. Specially with the creek it was so peaceful just listening to that water run all day. Caleb spent most of his time playing in the creek tossing rocks and sticks in to watch them wash away. I captured lots of beautiful pictures! So I hope you all enjoy them!!!!