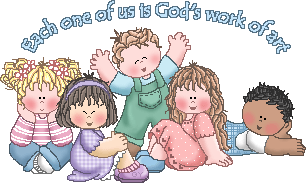 My sweet girl made Special kid of the week at her class at Special Kids! They put up a bulletin board in their main hallway and here is how it turned out!
Super cute huh? I thought it was precious! It listed her favorites, fav color: Purple(well its mommys fav on her), Favorite food: Pizza, Favorite person: Her Brother! Also the great news of her becoming seizure free and a clear EEG!!!!!
Here she is during her OT class. Playing with a ball, pulling rings out of a toy container, and trying to get her to turn pages to a book! With all 3 things she did pretty good, they tried to get her to put the rings back in the container which she had no intrest in doing she wanted to through them all in the floor...Little stinker!
Some of her favorite things to do right now are playing outside she loves the outdoors. Bubbles she would sign "More" all day for those and then there is the Slide she loves to climb up(w/our help of course) and go down the slide(by herself) with the Biggest grin on her face! She is just doing new things everyday her sound she was making last week has already changed into a grunting sound with loud shreaks and she has now added in blowing sounds! Maybe next week it will be a babble, wouldnt that be great!
Oh and one more thing let me know if any of you are expereincing this! Cameran hates clothes, shoes, socks, diapers you name it if it touches her skin she does NOT want it on! I'm guessing it might be a toddler thing but she will not stop taking her clothes off in public. If we are sitting at a restraunt she strips out of her dress or shirt there at the table, shoes and socks had already been kicked off! When we get home she pulls it all off this I do not mind its the diaper I mind. Not sure if it means she is ready for the potty or not! I have set her up there but she just wiggles to get down no intrest at all however she runs that direction when she sees us going! What are your thoughts on this? Cause she threw the biggest fit today when I wouldnt let her take her diaper off she cried for 30 minutes she would take it off and I would put it back on and she would scream at me this went on for an hour back and forth! I'm about to give up but I dont want pee and poop everywhere...LOL! Help, could it be time, does she understand what it means to go potty? I just dont know!